I am currently on summer break and my goals have so far been to blog more (I'm doing it!), and create. Create is a little vague but it ranges from journaling to coming up with DIY projects. Currently I've been really inspired to cook and find really delicious and healthful recipes. So far I've made bone broth (crazy healthy benefits), low carb bread (almond flour and coconut flour are the base), cauliflower rice (such a good substitute for carb heavy rice), and now this: maca dark chocolate with goji berries, golden raisins, coconut chips and manuka honey almonds. Like I mentioned in my last post, I love to eat healthy, but am also a fan of being indulgent. I tend to crave sweets after a delicious meal. The only problem is many times something sweet equates to refined sugar and major carb overload. I am a HUGE chocolate fan and will often times splurge on high cacao chocolate bars (good chocolate ain't cheap). Usually these bars have added fruits, nuts, etc. I decided I wanted to get creative and make my own. A chocolate bar that is easy to make, decadent, indulgent and has added nutritional benefits? Check, check and check!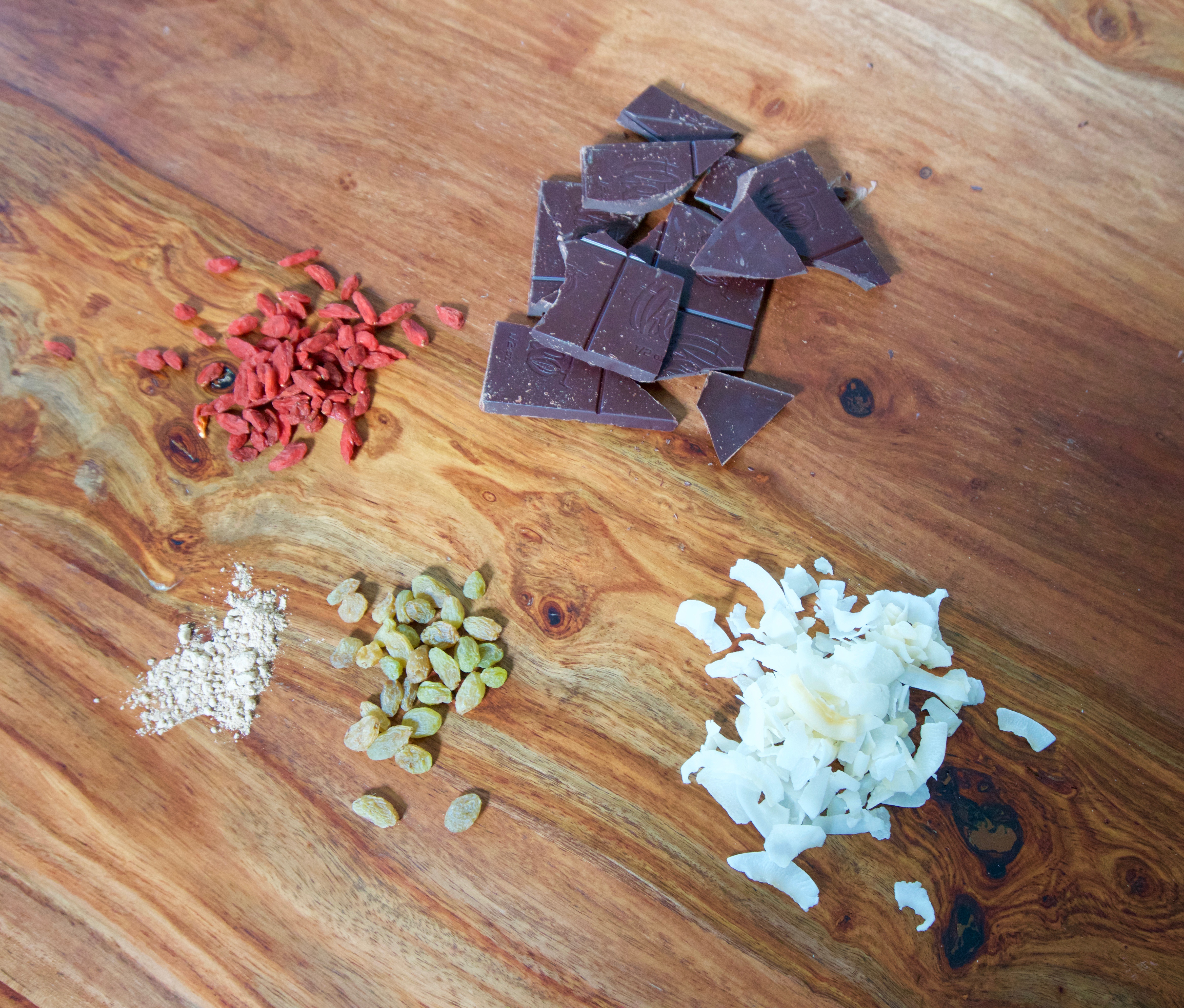 Ingredients:
4 oz high quality (dark) chocolate
4 tsp maca powder
2 tbsp goji berries
2 tbsp coconut chips
2 tbsp golden raisins
2 tbsp almonds
1 tsp manuka honey
Parchment Paper and a baking sheet
I used 85% cacao baking chocolate. The higher the percentage of cacao, the higher the benefits you will get. Darker cacao contains antioxidants which helps prevent cellular damage.
Goji berries are high in Vitamin C, fiber and low in calories and they're a good source of Vitamin A and iron.
Maca is rich in Vitamins B, C and E. It provides calcium, iron, zinc and essential amino acids.
*Not pictured, roasted almonds and manuka honey. I am OBSESSED with manuka honey, I've been using it as a face mask because it provides an awesome way to moisturize, and it's definitely helpful during the dry months (I'll do a future post regarding my honey masks). Manuka honey also provides crazy nutritional benefits such as zinc, magnesium, calcium, copper, the list goes on! Seriously, this stuff is the holy grail. It helps with acne and eczema, wounds, and sore throats. It's because of the unpasteurized, raw quality manuka honey provides that keeps all the nutrients intact.
---
First you want to start off melting the chocolate. I used the double boiling method since I do not have a microwave (If you do decide to microwave, I suggest melting the chocolate in intervals of 20-30 seconds so you don't burn the chocolate). I boiled a small amount of water and placed a heat safe bowl on top. I melted the 2 tbsp of coconut oil and slowly began adding the pieces of chocolate waiting until each piece melted.
Once all the chocolate is melted add the maca powder and stir until dissolved.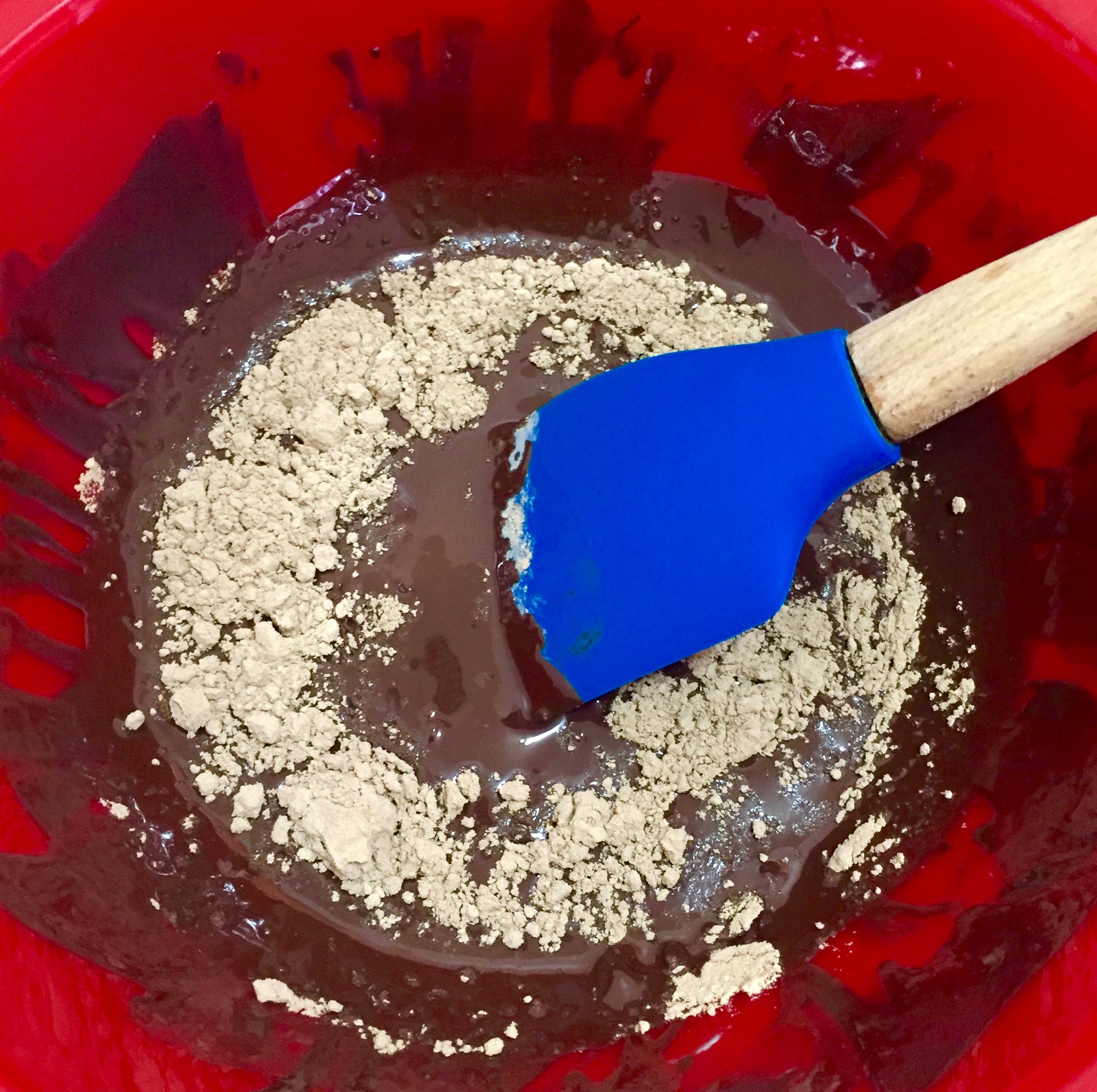 After the maca powder dissolves spoon out the melted chocolate on the baking sheet with parchment paper.
To roast the almonds: heat up a nonstick pan on medium, place almonds and pour honey. Almonds should look golden when done.
After, start placing the toppings: raisins, goji berries, coconut chips and almonds. Make sure they are spread out evenly.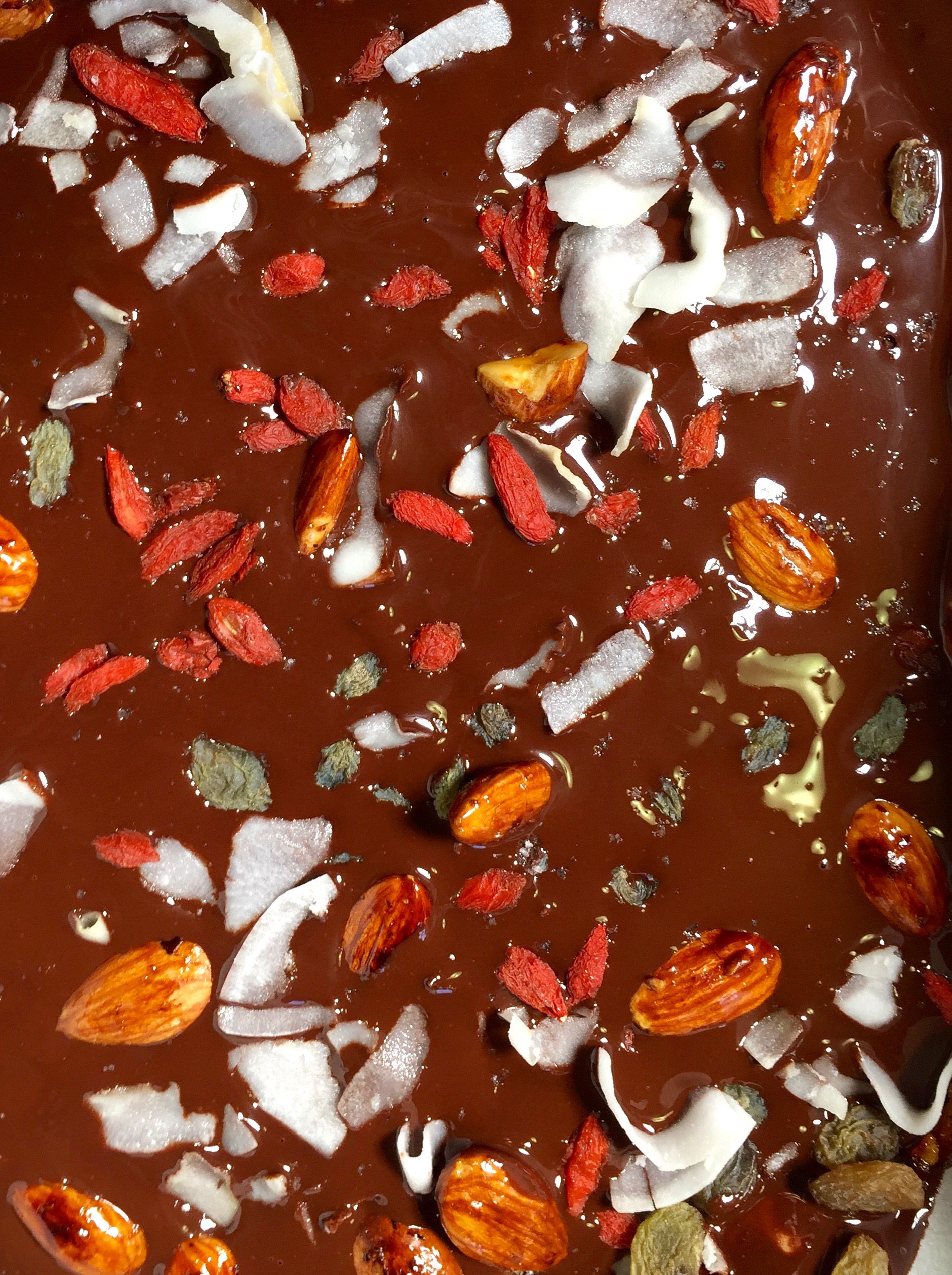 You're almost there!
Place the chocolate in the freezer for 15-20 minutes.
Afterwards, chocolate will be solid again. Break into pieces, and enjoy! You can store in the fridge, freezer or keep it at room temperature.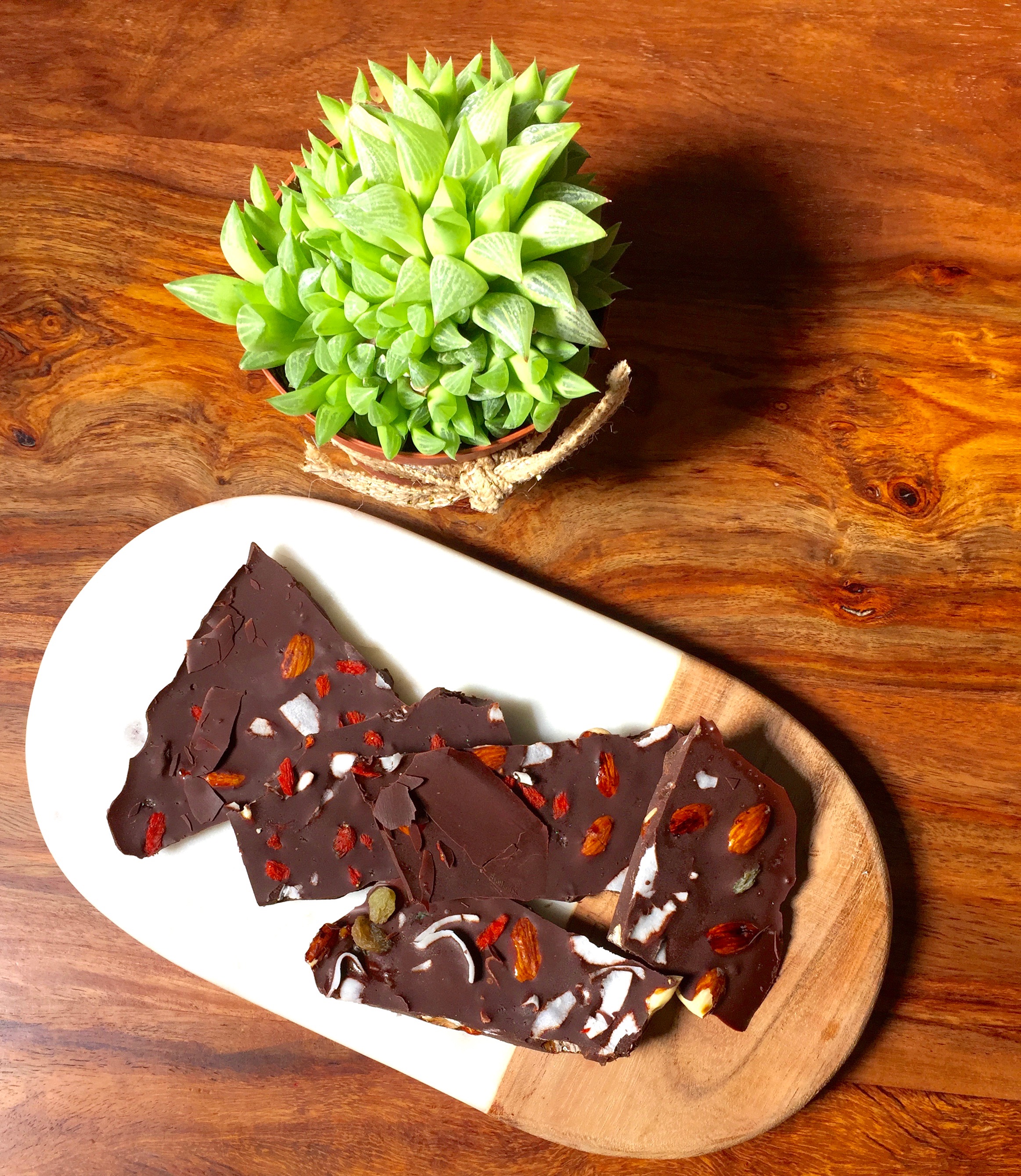 This chocolate was really good and because it has all the added benefits there was no guilt involved. Happy chocolating!
---
---